Regular price
$2,369.95 CAD
Regular price
Sale price
$2,369.95 CAD
Unit price
per
Sale
Sold out
Introducing the RODAC Digital Wheel Balancer: precise and efficient. 110V power supply, ±1g tolerance. Handles up to 65 kg wheels for diverse vehicles. High-speed balancing at 200 rpm, 8-second measuring time. 5 balancing modes for versatility. Trust RODAC for professional wheel balancing.
SEE ALL SPECIFICATIONS
SKU : SKU: RDG55 FIND A DEALER
View full details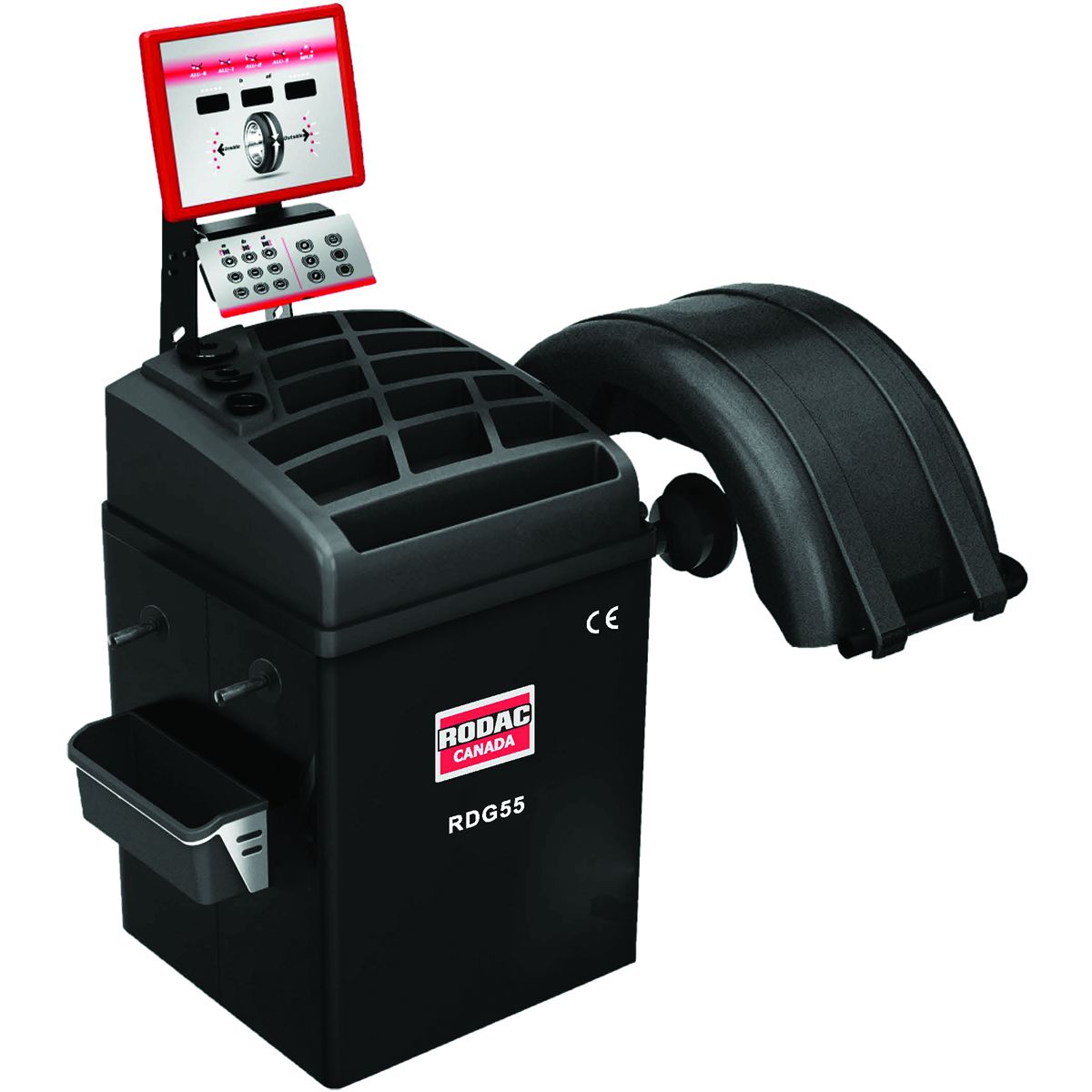 One Stop Shopping For All Your Needs

Committed to user satisfaction

Precision in every product
One Stop Shopping For All Your Needs

Committed to user satisfaction

Precision in every product
Product Overview
Specifications
Introducing the RODAC Digital Wheel Balancer, the ultimate tool for precise and efficient wheel balancing. Whether you're a professional mechanic or an avid DIY enthusiast, this wheel balancer is designed to meet your needs and deliver exceptional results. With a reliable 110V power supply, you can trust this balancer to provide consistent performance. The ±1g tolerance ensures accurate balancing, allowing you to achieve optimal wheel stability and smooth rides. One of the standout features of this balancer is its impressive capacity. It can handle wheels weighing up to 65 kg, making it suitable for a wide range of vehicles, from compact cars to larger trucks and SUVs. No matter what type of wheel you need to balance, this machine has got you covered. Speed and efficiency are key when it comes to wheel balancing, and this RODAC balancer delivers on both fronts. With a high-speed balancing capability of 200 rpm, you can quickly and effectively balance your wheels, saving you valuable time and effort. The 8-second measuring time further enhances the efficiency of the process, allowing you to work through multiple wheels with ease. Versatility is another standout feature of this wheel balancer. It offers 5 different balancing modes, giving you the flexibility to adapt to various wheel types and sizes. Whether you're working with steel wheels, alloy wheels, or custom rims, this balancer can handle them all. Trust is important when investing in equipment for your workshop or garage, and RODAC is a brand that stands for reliability and quality. With their extensive experience in the industry, you can have confidence in the performance and durability of this digital wheel balancer. In conclusion, the RODAC Digital Wheel Balancer is a powerful and reliable tool that will revolutionize your wheel balancing process. With its precision, capacity, speed, and versatility, it is the perfect addition to any professional automotive workshop or home garage. Invest in this top-of-the-line wheel balancer and experience the difference it can make in achieving perfectly balanced wheels and a smoother driving experience.
110V power supply
±1g tolerance
Handles up to 65 kg wheels
High-speed balancing at 200 rpm
8-second measuring time
5 balancing modes.
Excellence and Innovation in Every Turn
Discover superior craftsmanship with RODAC, your one-stop solution for professional-grade tools. Born in 1984, RODAC blends experience with innovative technology to deliver an unmatched range of over 750 products. Experience the RODAC difference and redefine your work with unmatched reliability and precision.