/
Sandblaster Cabinet 350L With Fine Dust Vacuum
Regular price
$1,249.95 CAD
Regular price
Sale price
$1,249.95 CAD
Unit price
per
Sale
Sold out
Here is the Rodac RDSBC350 sandblasting cabinet equipped with a particle vacuum. The cabinet is designed for use in sandblasting applications and features natural rubber/vinyl gloves, a perforated steel abrasive floor, a large transparent particle separation screen, and external fluorescent lighting. The overall dimensions of the cabinet are 103 cm x 90 cm x 164 cm, and the working area measures 94.5 cm x 60.5 cm x 60.5 cm. The cabinet can be powered by 110V, 60Hz, or 230V, 50Hz with a 12V output voltage and can use various abrasive media such as silica sand, glass beads, silicon carbide, emery, plastic sand, etc.
SEE ALL SPECIFICATIONS
SKU : SKU: RDSBC350 FIND A DEALER
View full details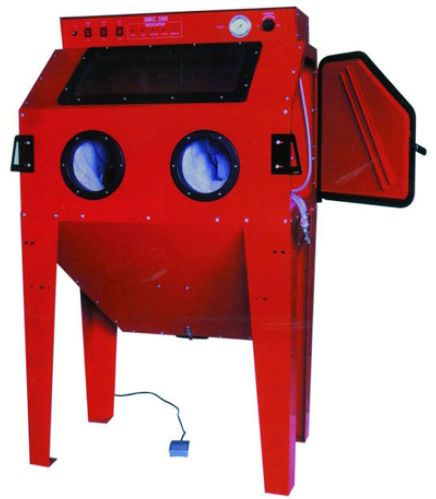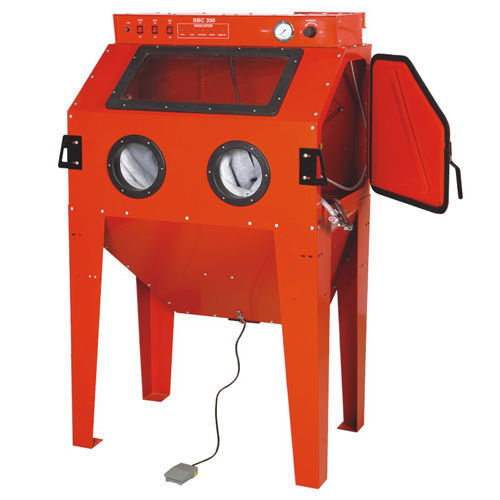 One Stop Shopping For All Your Needs

Committed to user satisfaction

Precision in every product
One Stop Shopping For All Your Needs

Committed to user satisfaction

Precision in every product
Product Overview
Specifications
Introducing our state-of-the-art sandblasting cabinet, designed to make your sandblasting projects more efficient and effective than ever before! This versatile cabinet is perfect for a wide range of applications, from cleaning and prepping metal surfaces for painting, to restoring classic cars and motorcycles, and even engraving glass or stone. Crafted from high-quality materials and built to withstand heavy use, this cabinet features a natural rubber/vinyl glove system to keep your hands protected from the abrasives and dust generated during sandblasting. The abrasive-resistant steel perforated floor allows for easy recovery of any debris or abrasives that fall to the ground during use, ensuring a clean and safe workspace. With its large, transparent separation panel, you can enjoy a clear view of your workpiece as you sandblast, while also preventing the spread of debris and particles beyond the cabinet. The air regulator and pressure gauge help you maintain optimal pressure for your sandblasting needs, while the 14-gauge steel feet provide stability for the cabinet during use. This sandblasting cabinet also features an external fluorescent light to ensure maximum visibility during use, along with a generous capacity of approximately 40 pounds of abrasive media. You can choose from a variety of abrasive media, including silica sand, glass beads, silicon carbide, emery, plastic sand, and more, to achieve the desired finish on your workpiece. The cabinet requires either a 110V, 60Hz or 230V, 50Hz electrical supply to operate, and features a 12V output for any additional lighting or electronic components you may choose to add. Overall, this sandblasting cabinet measures 103cm x 90cm x 164cm, with a work area of 94.5cm x 60.5cm x 60.5cm. Whether you're a professional mechanic or a DIY enthusiast, this sandblasting cabinet is an excellent investment for anyone looking to achieve the highest quality sandblasting results on a wide range of materials. Don't wait any longer to experience the convenience and precision of our sandblasting cabinet – order yours today!
Natural rubber/vinyl blast gloves
Perforated steel flooring-abrasive
Large particle-separating screen clean-out door
Air regulator/gauge panel
14 gauge steel legs (16 gauge panels)
External flourescent lighting system
Overall dimension : 103cm x 90cm x 164cm
Work area : 94.5cm x 60.5cm x 60.5cm
Air pressure range : 60PSI~120PSI
Sand capacity : approx 40lb
Abrasive media : silica sand, glass beads, silicon carbide, emery, plastic sand, etc
Power requirement : 110V,60Hz or 230V,50Hz
Output voltage: 12V
Excellence and Innovation in Every Turn
Discover superior craftsmanship with RODAC, your one-stop solution for professional-grade tools. Born in 1984, RODAC blends experience with innovative technology to deliver an unmatched range of over 750 products. Experience the RODAC difference and redefine your work with unmatched reliability and precision.