/
Rodac Rdats8 Air Tools Display
Regular price
$129.95 CAD
Regular price
Sale price
$129.95 CAD
Unit price
per
Sale
Sold out
Introducing the RDATS8 by Rodac, the ultimate air tool display system featuring 8 powerful tools in one compact unit. This innovative solution provides easy access and organization, allowing you to efficiently tackle any project. With Rodac's reliable craftsmanship and performance, the RDATS8 is a must-have for professionals and enthusiasts alike.
SEE ALL SPECIFICATIONS
SKU : SKU: RDATS8 FIND A DEALER
View full details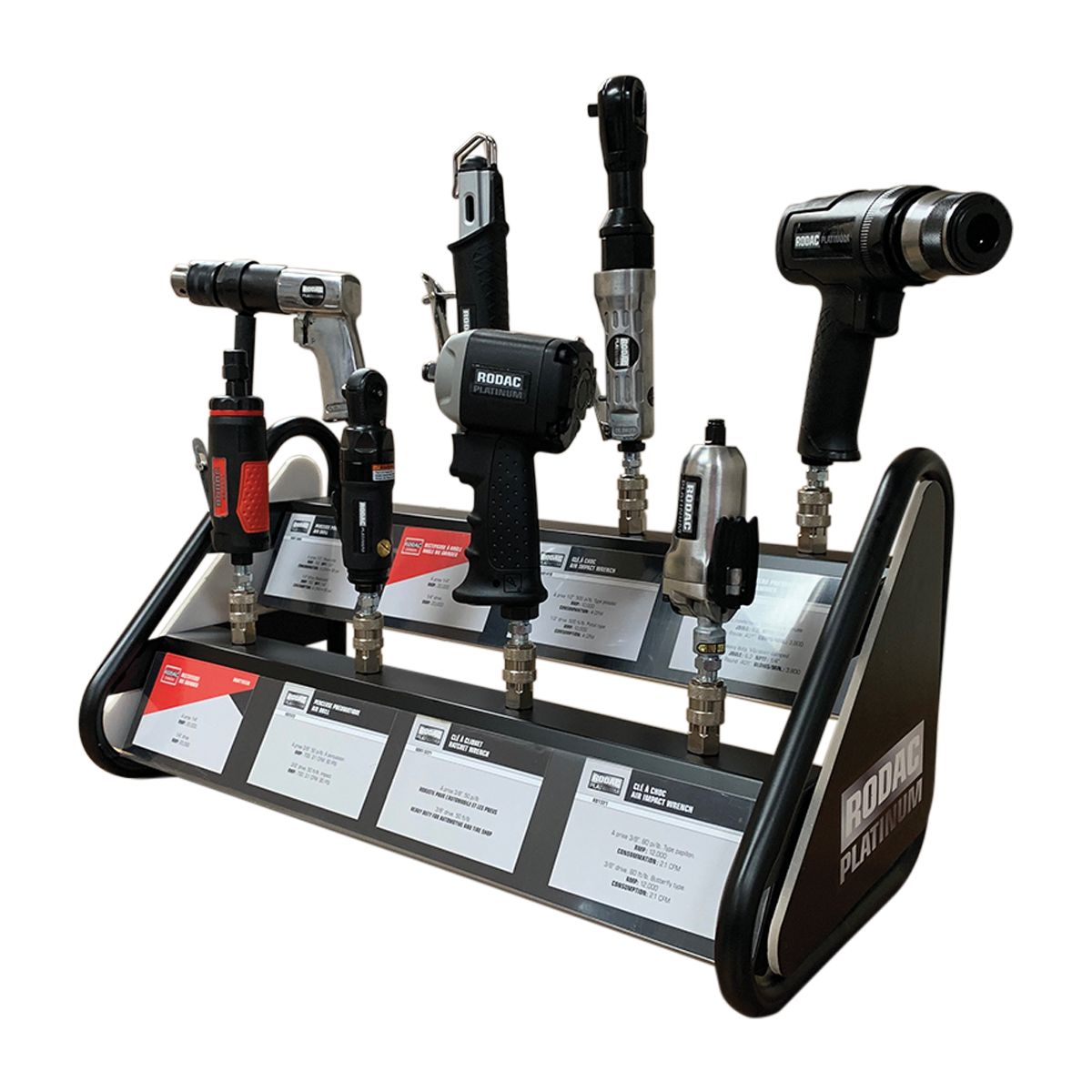 One Stop Shopping For All Your Needs

Committed to user satisfaction

Precision in every product
One Stop Shopping For All Your Needs

Committed to user satisfaction

Precision in every product
Product Overview
Specifications
The RDATS8 by Rodac is the perfect display rack for pneumatic tools, designed for professionals and enthusiasts alike. With its clever and compact design, it provides storage space for 8 powerful tools in one convenient unit. Whether you work in a garage, workshop, or even at home, the RDATS8 is the ideal accessory to organize and optimize your workspace. Reliable performance is a key feature of the RDATS8. Each pneumatic tool can be easily stored and accessed using this well-designed display rack. You can rely on Rodac's manufacturing quality to keep your tools in perfect working condition, ready to use at any time. The sturdy construction of the RDATS8 ensures exceptional durability. The high-quality materials used in its manufacturing provide increased resistance and a long lifespan. You can safely and reliably store and protect your tools. User-friendly operation is another major advantage of the RDATS8. With its ergonomic design and easy-to-use storage system, you can quickly access and store your tools in an instant. No more tedious searches or time wasted - the RDATS8 simplifies the process of using and storing your pneumatic tools. Versatility is an added advantage of the RDATS8. With the capacity to store 8 different tools, you have the flexibility to tackle a variety of tasks. Whether it's automotive mechanics, woodworking, or other DIY projects, you have the right tools at your fingertips. Furthermore, the compact design of the RDATS8 is specially created to maximize workspace. You can easily install it in any environment, even in tight spaces. Enjoy an organized and efficient workspace with this practical display rack. The attractive aesthetics of the RDATS8 add a touch of sophistication to your workspace. Its modern and elegant design makes it a visual asset. Whether in a professional garage or your own workshop, the RDATS8 stands out with style. The proven reliability of the Rodac brand is a testament to their commitment to quality. For years, Rodac has been recognized for their top-notch products and customer satisfaction. By choosing the RDATS8, you are opting for a trusted brand that meets your highest expectations in terms of functionality and durability. Lastly, the RDATS8 is a comprehensive solution for organizing your pneumatic tools. It comes with all the necessary accessories to help you effectively organize and protect your tools. You also benefit from warranty coverage for additional peace of mind. In case of any issues, Rodac's customer service team will be there to assist you. Choose the RDATS8 by Rodac and transform your workspace into an organized, practical, and visually appealing environment. Order the RDATS8 now and discover a new way to store and easily access your pneumatic tools while optimizing your efficiency and productivity.
Compact display for 8 tools
Reliable performance
Sturdy construction
User-friendly operation
Versatility for various tasks
Space-saving design
Attractive aesthetics
Proven reliability
Comprehensive solution
Warranty coverage.
Excellence and Innovation in Every Turn
Discover superior craftsmanship with RODAC, your one-stop solution for professional-grade tools. Born in 1984, RODAC blends experience with innovative technology to deliver an unmatched range of over 750 products. Experience the RODAC difference and redefine your work with unmatched reliability and precision.