/
Electric Winch 12V 2,000Lb 0.9Hp
Regular price
$179.95 CAD
Regular price
Sale price
$179.95 CAD
Unit price
per
Sale
Sold out
Experience the power and reliability of RODAC Winches. With a 12V motor and 0.9 HP, these winches can effortlessly handle up to 2000 lb of weight. The 49' galvanized steel cable and safety hook ensure secure and durable performance. Plus, the 6' wired remote control provides convenient and safe operation. Take on your toughest pulling tasks with confidence using RODAC Winches.
SEE ALL SPECIFICATIONS
SKU : SKU: RD9202 FIND A DEALER
View full details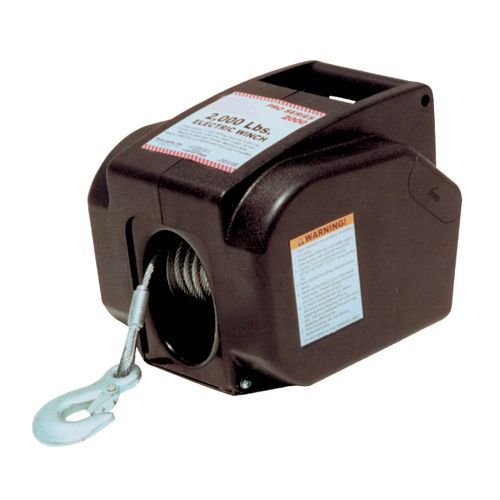 One Stop Shopping For All Your Needs

Committed to user satisfaction

Precision in every product
One Stop Shopping For All Your Needs

Committed to user satisfaction

Precision in every product
Product Overview
Specifications
Introducing the RODAC Winches, the ultimate solution for all your heavy-duty pulling and lifting needs. Whether you're working on your off-road adventures, hauling equipment, or tackling tough jobs at the construction site, these winches are designed to deliver outstanding performance and reliability. Equipped with a powerful 12V motor and boasting an impressive 0.9 HP, these winches provide the muscle you need to effortlessly handle loads up to 2000 lb. No matter the task, these winches have the power to get it done. The 49' galvanized steel cable ensures strength and durability, allowing you to securely anchor and pull objects with confidence. The included safety hook provides additional security, ensuring that your load stays safely attached throughout the operation. For added convenience and ease of use, the RODAC Winches come with a 6' wired remote control. This allows you to operate the winch from a safe distance, giving you full control over the pulling process. Whether you're guiding the winch from a distance or operating it up close, the remote control ensures a smooth and hassle-free experience. The RODAC Winches are engineered to withstand the toughest conditions. The rugged construction and high-quality materials ensure long-lasting durability, making them suitable for both professional and recreational use. Whether you're navigating through muddy terrains or facing challenging weather conditions, these winches are built to handle it all. Installing and using the RODAC Winches is a breeze. The winches are designed for easy installation, and they come with all the necessary mounting hardware and instructions. Simply follow the steps, and you'll have your winch ready for action in no time. In conclusion, the RODAC Winches are the perfect companion for any heavy-duty task. With their powerful motor, impressive weight capacity, and durable construction, these winches provide the reliability and performance you need to tackle any pulling or lifting challenge. Don't settle for less when it comes to your equipment. Invest in the RODAC Winches and experience the difference in quality and performance.
12V motor
0.9 HP power
2000 lb weight capacity
49' galvanized steel cable with safety hook
6' wired remote control
Excellence and Innovation in Every Turn
Discover superior craftsmanship with RODAC, your one-stop solution for professional-grade tools. Born in 1984, RODAC blends experience with innovative technology to deliver an unmatched range of over 750 products. Experience the RODAC difference and redefine your work with unmatched reliability and precision.