/
Chain Hoist 1/2T. 10' Lift
Regular price
$139.95 CAD
Regular price
Sale price
$139.95 CAD
Unit price
per
Sale
Sold out
The RDTRC05 by Rodac is a 1/2 ton chain hoist designed to handle your lifting needs with ease and precision. It offers reliable performance and durability, making it a valuable addition to any workspace or job site.
SEE ALL SPECIFICATIONS
SKU : SKU: RDTRC05 FIND A DEALER
View full details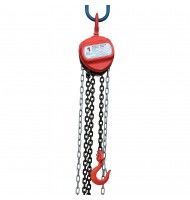 One Stop Shopping For All Your Needs

Committed to user satisfaction

Precision in every product
One Stop Shopping For All Your Needs

Committed to user satisfaction

Precision in every product
Product Overview
Specifications
Introducing the RDTRC05 by Rodac, the ultimate solution for your lifting needs. With a capacity of 1/2 ton, this chain hoist is meticulously designed to handle even the most demanding lifting tasks with absolute precision and ease. Its robust construction ensures reliable performance and exceptional durability, allowing you to confidently tackle any lifting challenge. The RDTRC05 is an indispensable tool for a wide range of applications. Whether you're working in a workshop, construction site, or industrial setting, this chain hoist offers unparalleled versatility. It effortlessly lifts heavy loads, providing you with the power and control you require to complete your tasks efficiently. Equipped with a compact and portable design, the RDTRC05 is incredibly user-friendly. Its ergonomic features make it easy to operate and handle, reducing strain and fatigue during extended usage. The convenient size and weight allow for effortless transportation and storage, ensuring it's always within reach when you need it. Designed for both personal and professional use, the RDTRC05 is the ideal choice for DIY enthusiasts, mechanics, and industrial professionals alike. Its precise and smooth operation allows for precise positioning and secure lifting, while its high-quality components guarantee long-lasting performance in even the harshest working conditions. Invest in the RDTRC05 chain hoist and unlock a new level of efficiency and productivity in your lifting operations. Experience the peace of mind that comes with using a reliable and trusted tool that meets and exceeds industry standards. Don't settle for anything less than the best – choose the RDTRC05 and elevate your lifting capabilities to new heights.
1/2 ton capacity
designed for efficient and precise lifting
reliable performance and durability
ideal for various lifting applications
easy to use and handle
compact and portable design
suitable for both personal and professional use
adds versatility to your workspace
enhances productivity and efficiency
high-quality construction for long-lasting performance
secure and stable operation.
Excellence and Innovation in Every Turn
Discover superior craftsmanship with RODAC, your one-stop solution for professional-grade tools. Born in 1984, RODAC blends experience with innovative technology to deliver an unmatched range of over 750 products. Experience the RODAC difference and redefine your work with unmatched reliability and precision.